Music Stores in Reno That Teach Lessons
Are you looking for a music store in Reno that teaches lessons? You've found it with Carpenter's Music World. Carpenter's Music word offers music lesson sessions that fit your needs, tailor-made to work around your schedule, ability, and time.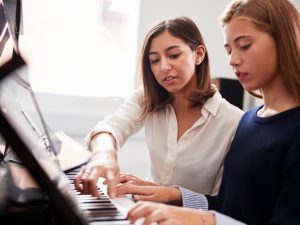 Core Lessons
Core lessons are offered weekly for the student who is serious about technical, musical, skill. These lessons are perfect for a young student who is still developing their motor skills, hand and eye coordination, and patience.
Support Lessons
Offered twice per month, in order to keep our new and old students' skills sharp, this lesson plan is best for a student with other extracurricular activities that need a flexible schedule.
The best part? You get to show off your skills! The students that take music lessons from Carpenter's Music World will perform in a recital to show off their skills and demonstrate all that they've learned. This recital is, of course, open to the public, everyone is welcome, and our students range from 8 – 80 years old.
If you really want to learn how to play an instrument, but just can't afford music lessons, don't worry. We have a discounted and tiered music lesson program that will help you learn the instrument you want to learn and not kill your bank account.
Carpenter's Music Academy is committed to providing the best services for all of your musical needs. Do you need to renegotiate pricing? Do you have a specific need we're not addressing? Don't hesitate to call us! We are happy to help work out a plan that will work out for every student, no matter the circumstance.
Take a look at our lesson plans below, there are perks if you are in school, or would like to learn as a family! Don't hesitate to give us a call with any questions or concerns you may have.
LESSONS
PRIVATE LESSONS ARE $30 FOR 30 MINUTES 
3 Months in Advance Receive:
5% off 
6 Months in Advance Receive:
7.5% off 
Entire School Year Sessions in Advance Receive:
10% off 
FAMILY DISCOUNTS
$28 each for two
$26 each for 3 or more
At Carpenter's, we want to be the best music store in Reno. We want to offer the best music lessons in Reno and the friendliest service. We understand that with a busy schedule, whether it be work, school, or just life, fitting music lessons in may be impossible, but honestly, it doesn't have to be. Carpenter's Music World will work with you and your schedule to figure out what pricing and which days work best for you and your needs.