Grand Pianos for Sale in Reno
Learning how to play the piano is one of the most beautiful things you can do for yourself or your children. It's a hobby that turns into a talent that will keep you and your loved ones entertained for years to come.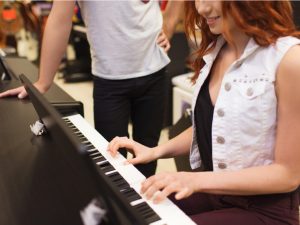 We are Reno's most trusted music store. We sell a variety of different instruments and have a large variety of pianos that will fit every budget. We recommend our rental program as well, which will fit you with a piano that will fit your budget and help you decide which piano you'd like to really spend your money on.
The benefit of learning to play on a piano vs. a keyboard is that the sound is authentic because it's generated by a string, and there are 88 keys.
Pianos are much more expensive than keyboards, but they can be rented to own at Carpenter's Music World. If you are looking for an easy piano rental program that is reliable and affordable, you've found the right music store.
We are one of the oldest music stores in Reno, providing rental instruments, instruction, music practice books, and more. Our rental program can be modified to fit your needs, and adjusted to be on a rent-to-own basis. Rent to own, rent for a price that can be easily negotiated depending on the urgency or situation, or, if you'd like to lessons and play your piano in-house, we can provide that, too.
Music is a fundamental part of development in young children and holds great importance later in life, whether you pay or not. Music is a way to express how we feel – it is described psychologically as the words and tones of the soul, the feelings that we cannot express or put into words.
The music you choose on a given day is what you are feeling and the emotions that you cannot seem to express. Piano lessons at Carpenter's are available to students of all ages, so don't hesitate to ask. Contact Carpenter's today and let us guide you in your musical journey!