Getting Rid of an Old Piano? Call Us!
Are you getting rid of an old piano? Whether you are moving or no longer have a use for it, don't hesitate, call Carpenter's Music World today and let us take it off your hands! We look for old pianos that need work. Our team of talented technicians works hard to inspect and refinish every used piano for sale in our store.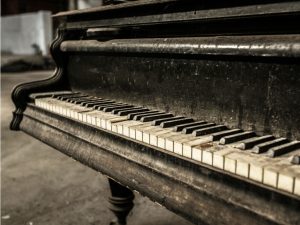 Carpenter's Music World is a full-service music store in Reno, NV. We carry a full range of new and used pianos, band and orchestra instruments, guitars, sheet music and more. Our instrument rental program is perfect for budding musicians, and if you're looking for private music instruction, we have excellent teachers that will help you unlock your musical potential, regardless of your current skill level!
We have the area's largest selection of new and used pianos. Our showroom features new pianos from Yamaha, Bluthner, Pearl River and more! We have pianos to satisfy every budget. Or, if you're getting rid of your piano because it is no longer working, we can repair it. Whether it is normal wear and tear, or some kind of accident, we are confident that our expert technicians will be able to repair your instrument, that's what we do with all of our used pianos and used instruments in the shop. We will never sell an item that is not fully backed our warranty and has the Carpenter's Music World seal of approval.
The experts at Carpenter's Music World understand that there are some things that you own that you will cherish forever. For many, that something is their piano. Carpenter's Music World has almost 50 years of experience in the music industry and deals with a large variety of instruments on a daily basis. We will identify and provide market accurate estimates for your piano, stringed instrument, or band instrument. We have staff dedicated to the safe transfer of your piano from one location to another because we understand the value of these beauties, both monetary and sentimental. Sell your instrument to us and we promise that we will find it a good home.
So whether you really want to get rid of your piano, or you just want us to fix it, call us! We want to convince you that keeping your piano is a must, but we understand that circumstances will come about that may force you to give it up. We will work hard to give you the right and honest price for your piano.
Contact Carpenter's Music World today and let us take your piano off your hands!